Making a big batch of waffles for your family can take hours if you don't own a large waffle maker. On the other hand, being a part of a big family means that you need to take care of a lot of other things and barely anyone has that much time to spend in the kitchen. So, if you don't already own a large waffle maker, maybe is time to consider investing in one. Not only that can save you a lot of time, but you will be able to prepare waffles for your family more often. You can also use your large waffle maker to prepare waffles for family gatherings or when your friends come over.
Put your eyes on my selection of the best large waffle makers to easily decide which one you need.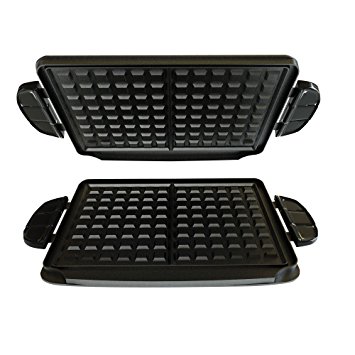 These are actually the waffle plates, not really the whole waffle maker. But I really wanted to bring them up because of their size. As you can see in the title these waffle plates are 84 Square inch set of top and bottom waffle plate. And this means that you can make 2 extra-large waffles at a time. Additionally, they have a non-stick coating and they are dishwasher safe. As a matter of fact, you can see the complete list of devices that these plates are compatible with on the amazon.com link below the product picture.
Pros:
Non-stick coating
Dishwasher safe
Cool-touch handles
Cons:
The waffle plates fit only on specific models
The plates are not fully non-stick after a while
Can cook unevenly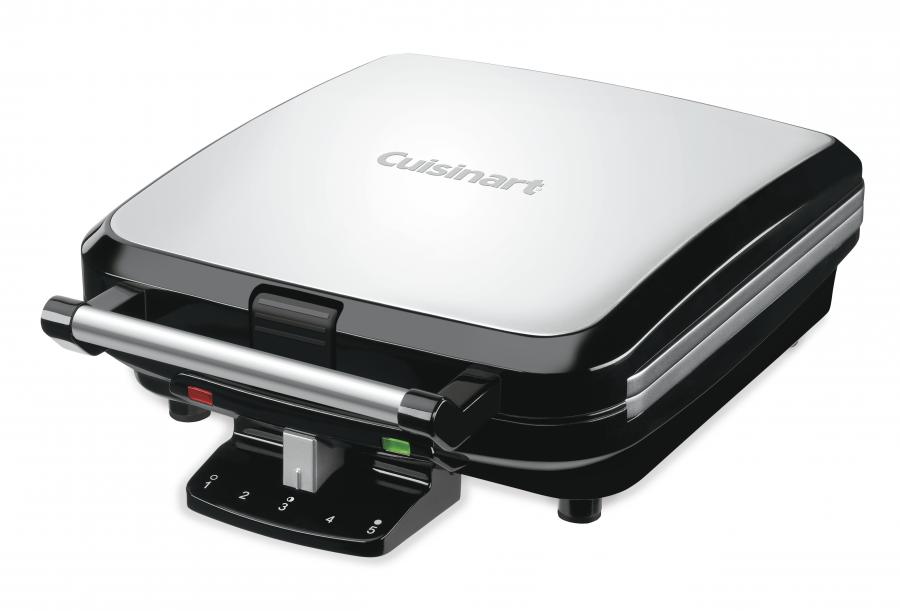 I talk about Cuisinart waffle makers in almost every of my "Best of" articles because their waffle makers are really amazing! Accordingly, this is a square large waffle maker that cooks four 1 inch deep Belgian waffles at once. And like most waffle makers has non-stick waffle plates to make the waffle release simple and neat. There is a green light signal to let you know when to pour the batter and when to take out the waffle. The device stands vertically for convenient storage. The design features an elegant stainless steel top surface with the company logo on it.
Pros:
Non-stick coating
Cord wrap and vertical storage base
"ready to bake" and "ready to eat" light signals
Cons:
Top doesn't heat as much as the bottom
No doneness settings
Non-stick coating requires special attention while cleaning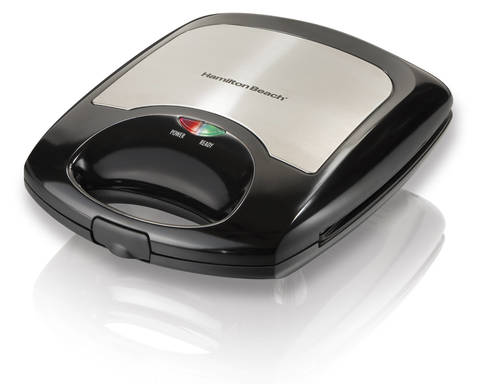 With this large waffle maker by Hamilton Beach, you can quickly make 4 thick and delicious waffles at a time. First, you should wait for the "ready" signal to light up and then pour the batter. Next, you should wait for additional 4-5 minutes for the waffles to bake. The waffle release is smooth and easy thanks to the non-stick baking surface. Furthermore, the unit stands vertically for compact storage. Additionally, the design is very simple and will look great on any countertop.
Pros:
Non-stick coating
Dual light indicators ("power" and "ready")
Stands upright for compact storage
Cons:
No "ready to eat" indicator
No doneness settings
Can heat unevenly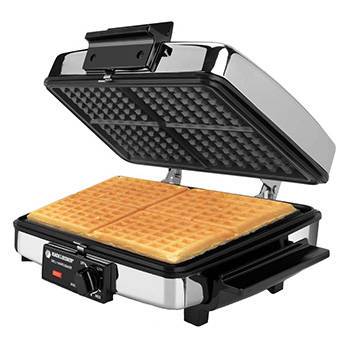 This is a great 3in1 device that features waffle plates, griddle, and grill. Therefore, you get to prepare various meals with only one appliance. So, you save both space and money! Also, this large waffle maker will cut the cooking time because makes 4 large waffles at once. In addition, you are able to control the amount of heat depending on what you cook. Furthermore, the plates are non-stick and removable so you won't spend hours cleaning the device. Lastly, you can store it in a vertical position in your cabinets or countertop to save storage space.
Pros:
Various temperature controls
3in1 appliance with an affordable price
Non-stick and removable plates for effortless cleaning
Cons:
Takes longer to heat
Plates sit a bit loose
Exterior gets very hot to touch while baking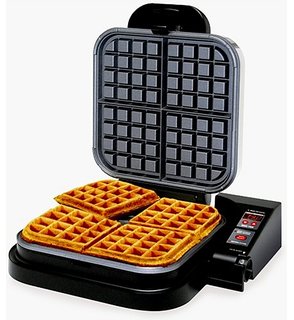 Chef's Choice waffle maker is probably one of the fastest large waffle makers! Cooks 4 decent size waffles in less than two minutes. Also, has many advanced features, but have in mind that has a higher price as well. Therefore, you can choose between crispy and light texture and have a complete control on the temperature for uniform baking. Furthermore, the three light signals followed by a sound alert will notify you when your waffle maker is on, when to add the batter and when the waffle is done.
Pros:
Non-stick coating
Texture and temperature control
Built-in cord storage
Cons:
Exterior gets too hot to touch during baking
Higher price
User's guide is a little bit confusing