When searching for a waffle maker you want to make sure that you recognize the features that make one waffle maker better than the others. First of all, you need a waffle maker that cooks delicious waffles. This wouldn't be possible if your waffle maker doesn't have a non-stick surface. I am not saying that you can't get a non-stick cooking spray or coat a regular waffle maker with oil. But that is an extra work in the cooking and cleaning process. Also, it is recommended to buy a waffle maker that features 'done' button, so you don't have to lift the lid every 30 seconds and check on the waffles or even worst, burn them! Great waffle makers feature griddles that can be removed easily, so the whole process of cleaning is effortless and effective.
Pick a stainless steel waffle maker if you want to keep the surface shiny even after multiple uses. Also, you want to buy a waffle maker that will provide even heat along all of the plate tops. This is very important because you don't want a waffle that is half undercooked and half burned. Good quality waffle makers feature a temperature control and a browning control so you can cook different batters. Because different batters require different cooking temperatures and crispiness.
[table id=1 /]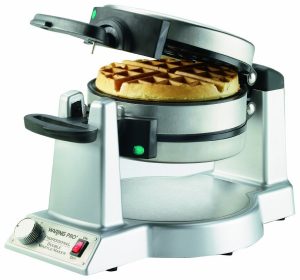 The Cuisinart WAF-F20 waffle maker is one of the easiest and most convenient to use. One of the best features is that you can cook 2 deep pocket waffles at the same time. The deep pockets can hold a lot of whipped cream, syrup and other toppings. There are 6 browning control settings to ensure that every waffle is crispy and brown according to your taste. The LED lights will flash to let you know when each waffle is ready to come out. Also, your waffles will come out easily thanks to the non-stick coating.
Pros:
-Quick and even cooking
-Non-stick food release
-Double waffle cooking
Cons:
– 1400 W of power means it's very powerful and spends a lot of electric energy
– Non-stick coating requires special care: you can't use acidic or alkaline cleaning fluids and you need to clean with a soft sponge only to avoid scratching the coating
– Cover is not tightly secured
This is a small waffle maker that will fit in everyone's kitchen. In addition, has a great price especially if you are on a budget. Comes with a temperature control so you can make light and fluffy or super crispy dark brown waffles. Features a non-stick surface, power and ready indicator lights.
Pros:
-Affordable
– Small size
– Adjustable temperature control
Cons:
-Makes one waffle at a time
-Doesn't feature automatic shut off
-As mentioned above non-stick coating requires special care while cleaning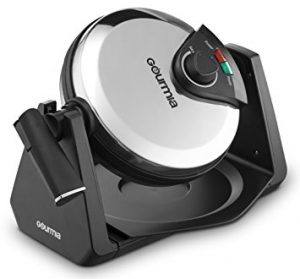 This waffle maker has a really interesting and unique feature: rotates up to 180 degrees in order to provide an even distribution of the batter in the waffle iron. It's made from a high-quality materials and stainless steel housing. The adjustable temperature control gives you a chance to set your temperature depending on how you like your waffles: gold brown and crispy or light and airy.
Pros:
-180 degrees fast and easy flipping for even distribution
-Adjustable temperature and digital control
-Comes with a free recipe book
Cons:
-Needs more space for storage
-Doesn't feature non-stick coating
-Timer runs a little early and makes lighter waffles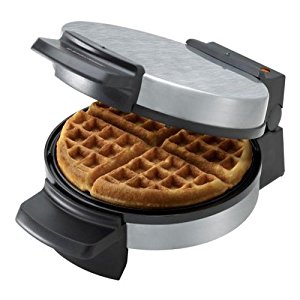 The extra deep grids make waffles with holes that can accommodate a generous amount of syrups and toppings. The ready indicator light will let you know when you need to lift the lid and take your waffle out of the iron. Features a non-stick waffle grids and convenient cord wrap.
Pros:
-Vertical storage base
-Light indicator that shows when the iron is preheated and when the waffle is ready
-Non-stick coating
Cons:
-The lid is a little bit heavy and hard to open at times
– Can cook unevenly
– Takes longer to cook the waffles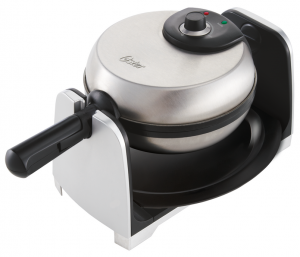 This is another waffle maker that comes with a flip operation for even dispersal of the batter. You can adjust the temperature to your preferences. The light indicator will let you know when the iron is preheated and when the waffle is done. The non-stick surface will enable an easy waffle release. Doesn't take much space thanks to its vertical compact storage design. The drip tray is easily removable which makes the process of cleaning easy and effective.
Pros:
-Flip operation for evenly cooked waffles
-Adjustable temperature control
-Vertical storage design
Cons:
– Top and sides become too hot to touch during baking
– When not vertically stored takes up a lot of room on the counter
– The light indicator is hard to see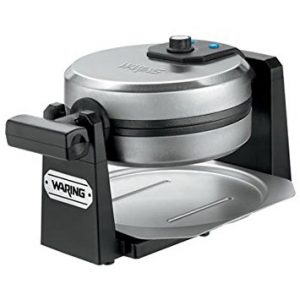 This is a high-quality heavy duty waffle maker. The one-inch deep waffle grids will make delicious restaurant-style waffles. There is a temperature control with six different settings that allows you to cook different batters and adjust the temperature to your preferences. The waffle grids can rotate up to 180 degrees to provide evenly cooked waffles. In addition, the light indicators will let you know when the waffle maker is preheated and when the waffles are ready to come out. Features a non-stick coating and browning knob for more control over the baking process.
Pros:
-Up to 180 degrees rotation for even spread of the batter
-Adjustable temperature control and browning control
-Non-stick plates for easy waffle release
Cons:
-The design is a little bulky and requires more space on the countertop and for storage
-The plates are not easily removable, you have to use a screwdriver
-Some customers say that this waffle maker is short-lived