I would like to introduce you to the best waffle cone makers! Because there is a thin line between a waffle with ice-cream and a waffle cone ice-cream. It's basically the same combination but a different way of serving. Also, waffles are usually thicker and have deep pockets so you can add more syrup or other toppings and of course you serve them warm. Furthermore, the waffle cone is crunchy and thin, but if you think deeper your waffle cone is a base that you fill with ice-cream, chocolate sauce, nuts and other toppings, just like your waffle.
Believe me, the waffle cone makes such a big difference to the whole impression! Those of you who tried a freshly made crunchy waffle cone know what I am talking about. Homemade waffle cones are a lot better than any waffle cone you can find at the grocery stores. I made a list of the best waffle cone makers to help you find the one that deserves a spot on your countertop.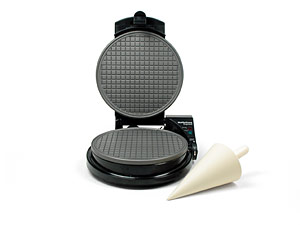 This particular model of a waffle cone maker by Chef's Choice makes 2 sugar cones in about 2 minutes. Besides that, each waffle cone will have equal thickness thanks to the locking latch function. Additionally, with the cone rolling tool, you can form perfect cones. There are "baking" and "ready" light indicators to keep you updated with the baking process. Also, there is a color-setting option to control the browning and instant temperature recovery for continuous baking. Moreover, the non-stick coating doesn't allow any batter to stick on to the waffle plates and makes the cleaning easy. In addition, comes with a recipe book to give you some great ideas on how to prepare homemade waffle cones.
Pros:
Cone-rolling tool and recipe book are included
Built-in cord storage for convenient storing while not in use
Color setting and temperature recovery feature
Cons:
Not of the highest quality
Surface gets too hot to touch during baking
Non-stick surface requires special attention while cleaning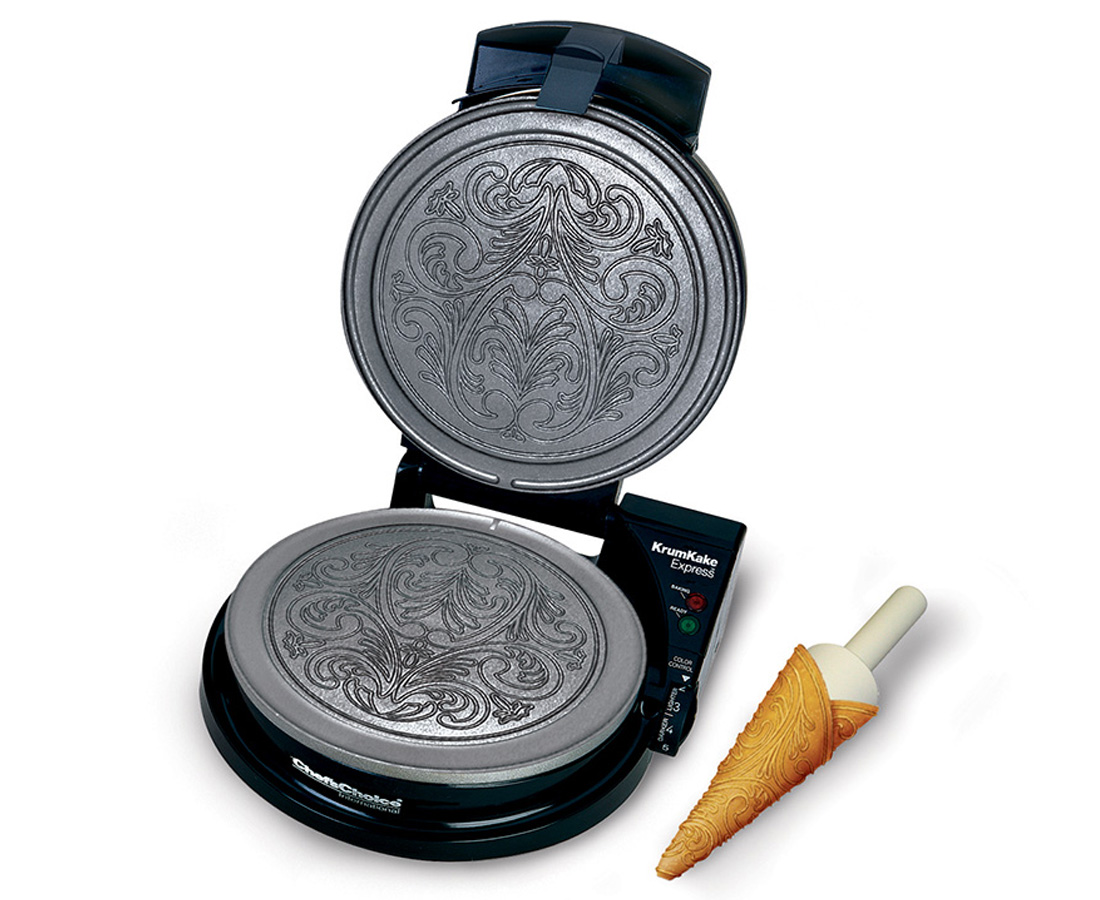 The baking surface on this waffle cone maker has an artistic design that will allow you to make interesting decorative waffle cones. In addition, there is a thin cone-roller that will turn the crepe-like cakes into a perfectly shaped waffle cone. Moreover, the baking surface has a non-stick coating that will provide an easy release. The dual light indicators will inform you when the baking starts and finishes.And thanks to the color selection dial you are going to be able to cook waffle cones that will satisfy everyone's taste. Additionally, the packaging includes a recipe book to encourage you to try different waffle cone recipes.
Pros:
Decorative baking surface
Cone roller and recipe book are included
Color selection dial
Cons:
If you don't pour exact amount of batter, the batter will go into the drip channel and that part won't get cooked
Non-stick surface requires gentle cleaning because it can be scratched easily
Sometimes cooks unevenly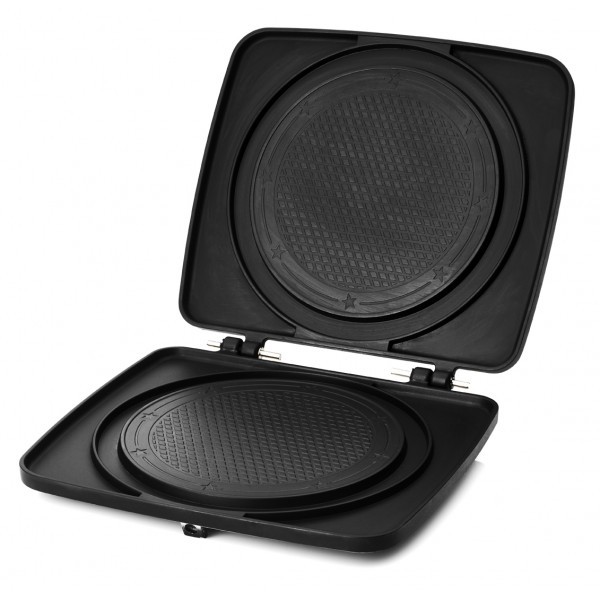 This waffle maker cooks delicious homemade waffle cones that are crispy on the outside and chewy on the inside. To be more specific there is a back and forth action available for even batter distribution. Additionally, the cast aluminum plates are removable dishwasher safe and interchangeable. This means that you can purchase different individual plates from the same brand and install them on this particular maker. Also, the baking surface is coated with a non-stick layer for neat and effortless waffle cone release. Additionally, there are light indicators to keep you updated about the baking process.
Pros:
The plates are removable and dishwasher safe
You can get a multi-purpose device if you purchase more individual plates
Non-stick coating
Cons:
No repair service or service manual available
High price
No audio alerts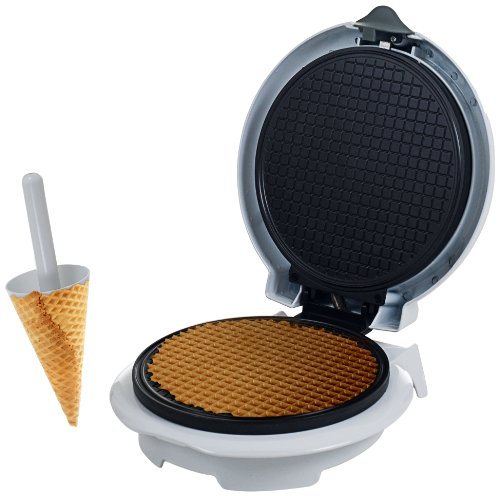 This waffle cone maker makes one delicious waffle cone every 2-3 minutes. There is a green light indicator that will guide you through the baking process. And once the batter is cooked you can use the plastic cone form to roll the crepe looking cake and make a waffle cone out of it. Furthermore, the non-stick surface will reduce the time you need to spend on cleaning because there will be nothing stuck on it. So, you will simply need to wipe it with a damp cloth or a sponge after using. Lastly, the heat adjustment knob will give you a chance to adjust the temperature that satisfies your preferences.
Pros:
Non-stick surface
Heat adjustment knob
Affordable price
Cons:
Instructions are poorly written and confusing
Sometimes bakes unevenly
The outside surface gets extremely hot to touch during baking