Waffle makers are a one purpose gadget that you probably are not going to use every day. But if you are on a budget it will be sure less expensive to make your own waffles than to go to a restaurant every now and then. Also, there are people who are not on a tight budget but don't want to make quite an investment for a machine that they are going to use it only once in a while. But if you love waffles, have a spot on your countertop and some free space for storage you don't really need to spend a lot of money for a great waffle maker.
If you are a huge waffle lover why hesitate and have your favorite restaurant treat only from time to time? Have you thought that you can make delicious breakfasts or desserts from the comfort of your home with a tool that won't empty your pockets! Take a look at our selection of the best waffle makers under 50$ so you can make the right decision and purchase a great deal!
Best Waffle Makers Under 50$ (Even Better under 30$)
[table id=2 /]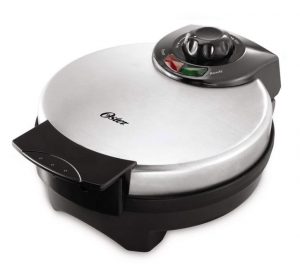 This stainless steel waffle maker is one of the best sellers on amazon.com. Features an adjustable temperature control, so you can make both light and crispy waffles without breaking the bank. The light indicator will light up when your waffle iron is preheated and when the waffle is done. The non-stick surface will provide an easy waffle release.
Pros:
-Non-stick surface
-Power and ready light indicators
-Adjustable temperature control
Cons:
-You have to be careful when cleaning the non-stick surface, don't use steel wool pad or abrasive cleaners because they will damage the non-stick surface
-No automatic shut off
-Makes one waffle at a time, so it might be time-consuming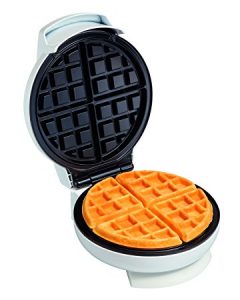 This waffle iron makes a tasty deep pocket waffles so you can fill them up with a great amount of syrup and other toppings. The signal lights will tell you when the waffle maker is connected to power and preheated. The cleaning process is easy thanks to the non-stick waffle plates that enable easy waffle removal. You won't need much space to store it thanks to the vertical storage design.
Pros:
-Non-stick surface
-Power and preheat light indicators
-Upright storage
Cons:
-No removable plates
-No temperature control knob
– Needs special attention while cleaning because of the non-stick coating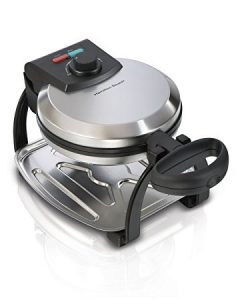 If you are looking for a budget friendly waffle maker with a flip operation then this is probably your best choice. The flip operation will evenly distribute the batter among the waffle plates to ensure that you get evenly cooked waffles. There is an adjustable browning control so you can have a full control over the baking process and cook waffles that will satisfy everyone's taste. Also, features a power and ready light indicators and removable drip tray that is dishwasher safe when placed on the top rack of your dishwasher.
Pros:
-Easy to clean
– Adjustable browning control
– Flip action for even cooking
Cons:
-The waffles made in this waffle iron are a bit thin
-Takes longer to cook the waffles than indicated
-This waffle maker is made from a lot of plastic material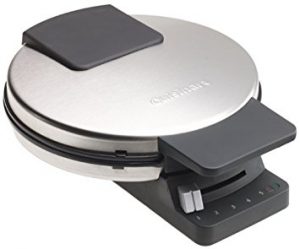 The Cuisinart classic waffle maker will cook waffles that will satisfy everyone's cravings. The 5-setting browning control allows you to cook both light and fluffy and dark brown, super crispy waffles. Thanks to the non-stick surface the whole process of baking and releasing is neat and effortless. There are two light indicators: when the waffle iron is preheated and when your waffle is ready. This waffle maker won't take much space in your cabinets because you can store it upright.
Pros:
-5 browning control settings
-Power and ready light indicators
-Non-stick surface
Cons:
-Top and sides become too hot during baking
-Can cook unevenly
– Plastic parts are not of the best quality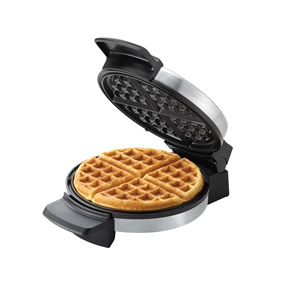 Do you want to upgrade the way you cook your waffles without breaking the bank? This Black and Decker waffle maker will cook delicious waffles with extra deep pockets that will accommodate all your favorite toppings. The non-stick waffle grids release the waffles effortlessly and are easy to clean. Additionally, this waffle maker features a ready light indicator and vertical storage base that will save space in your cabinets.
Pros:
-Non-stick waffle grids
-Vertical storage base
– Light indicators
Cons:
-The grids are not removable for cleaning
-Sometimes can cook unevenly
-Some people might find the lid heavy for lifting