The most delicious waffles are the ones that have deep crispy pockets that can accommodate plenty of tasty toppings. If you are wondering what are the best waffle toppings to upgrade your breakfast or dessert I have many great options for you. And this time I would like to take you out of your comfort zone and bring your waffle routine to a whole new level!
Probably most of you fill the waffle pockets with a maple syrup, whipped cream or cream cheese. And I know I would be boring if I simply repeat the toppings you already use. That is why I want to motivate you with several easy recipes, so you can use your waffles as a canvas for many flavorful toppings. Experiment with the way you serve your waffles and discover new tastes of greatness! Put your eye on these recipes that will help you create the best toppings for your favorite treats.
1. Chocolate Fudge Sauce / Nutella hazelnut spread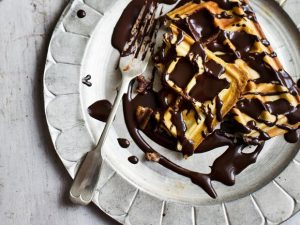 Ingredients:
1 cup heavy cream
10 ounces chopped bittersweet chocolate
2 tbsp confectioners' sugar
Instructions:
First, put the heavy cream in a saucepan. Then place it on heat and wait until the cream boils. After that remove the saucepan from the heat and add the chocolate. Leave it for about two minutes. Furthermore whisk well until the chocolate is melted. Lastly, add the confectioners' sugar and stir until you get smooth and even mixture.
This mix makes a perfect topping for a classic crispy Belgian waffle. Of course, you can add couple extra things to spice it up. If you don't feel like making your own chocolate topping, simply use Nutella. Nutella is always a good idea! I know this is a super popular combination, but I couldn't help myself but mention it!
2. Blueberry syrup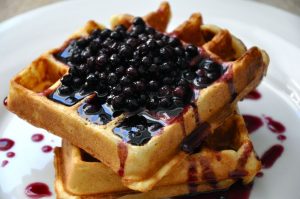 Ingredients:
1 ½ pounds or 5 cups blueberries
2 cups sugar
4 cups water
3 tbsp lemon juice ( fresh)
6 one-inch strips of lemon zest (use a vegetable peeler)
Instructions:
Put the blueberries in a pot together with 1 cup of water. Use a potato masher to smash the blueberries. Put the pot on heat and bring it to simmer. Leave it on low heat for 15 minutes. Filter the juice in a measuring cup.
For the next step you can use the same pot, but make sure you clean it first. Add the rest 3 cups of water, sugar and lemon zest and place the pot on heat. Leave the mixture to reach its boiling point. Don't forget to stir occasionally to incorporate the sugar into a liquid. Boil for 20 minutes on medium temperature until the mixture reaches 225° on a candy thermometer. Furthermore, mix the blueberry juice that you previously made with the lemon juice and let it boil for an additional minute. Then leave it for some time for the syrup to cool. Then you can remove the lemon zest from the syrup.
Now I know that this recipe might take longer to prepare, but you can make it all at once and store it well sealed in a refrigerator for up to 6 months. This recipe is perfect for those who want to try some other flavor with their waffles, different from the good old maple syrup.
3. Maple and cinnamon apple waffle topping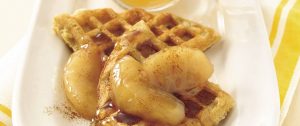 Ingredients:
2 apples
1 ½ (40g) unsalted butter
4tbsp maple syrup
1tsp ground cinnamon
Natural yogurt (optional)
Instructions:
Slice the 2 apples into wedges. Put the apple wedges in a griddle pan and cook  on a medium-high heat for 8-10 minutes. While the apple wedges are on heat, turn each wedge from time to time so both sides can get nice brown color. Add the rest of the ingredients to the pan and mix together.Cook for one extra minute until the butter melts. Shake the pan to cover the apples with the mixture. Serve this waffle topping by itself or over natural yogurt.
4. Bourbon whipped cream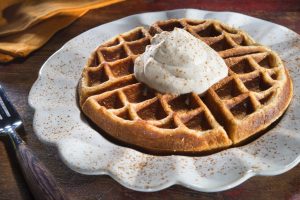 Ingredients:
1 cup cool heavy cream
½ tsp sugar
1 tbsp bourbon
¼ tsp pure vanilla extract
Instructions:
Put all the ingredients in a mixing bowl and mix them together with an electric mixer. You should mix until you get soft and whipped cream. It is simple as that! Won't take more than few minutes, but you will enjoy your good old waffle recipe with a new interesting waffle topping.
5. Avocado and eggs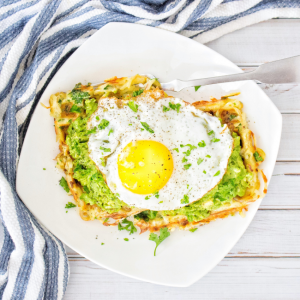 Ingredients:
2 ripe avocados
Lemon juice
Olive oil
Salt and red pepper
4 eggs
Instructions:
Cut each avocado in half and scoop the inner part. Place it in a bowl. Add a bit of lemon juice and olive oil. According to your preferences add some salt and crushed red pepper to spice it up. Then mix everything together with a spoon. Place part of the mixture on each waffle.
Meanwhile fry the eggs and place them over each waffle coated with the avocado mixture. Sprinkle a bit of salt and pepper if you wish. And there you have a delicious breakfast that will brighten up your day!
These are some of my ideas for the best waffle toppings. Most of them are super easy to prepare and fun to eat! After all, don't you think that waffles were made to inspire? So, get creative, play around with flavors and don't be afraid to add more things to satisfy your taste! Your waffle-your choice!