Is it just me, or waffles are really a food that comes straight from heaven!? I mean if we look back in history waffles come from Belgium. Can you imagine that centuries and centuries ago only Belgians had the privilege to enjoy these crispy, airy little wonders! That was before the world has heard of waffles. All the credit for inventing the waffles goes to Belgium, but we have to thank the United States of America for making the waffles a star of the show!
Nowadays they serve as a base to stack a pile of fruits, syrups, and other toppings. But if the road ever takes you to Belgium, you can buy plain waffles on every corner and eat it on the go. And don't you dare to underestimate an original Belgian plain waffle just because is not accompanied with a bunch of sweet goodies. Belgians know exactly what they are doing when making waffles! The original recipe brings a denser, sweeter, crispy from the outside and airy from the inside waffle, insanely tasty and perfectly eatable by itself and on the go. I mean, where else you can eat a waffle while walking?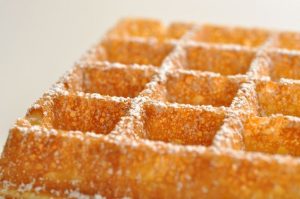 But enough history, anybody down for some delicious homemade waffles? I know that they are numberless of premade waffle mixes sold in the supermarkets that cut the preparation time. But also, will cut the authentic feeling that only a homemade waffle can bring. Think about all the childhood memories a freshly baked crispy homemade waffle brings. Don't you already see your mom beating the egg whites on an early Sunday morning? Scroll down to read the recipe of homemade waffles made from scratch. They will instantly gather the whole family around the table for a breakfast or a tasty brunch!
Ingredients: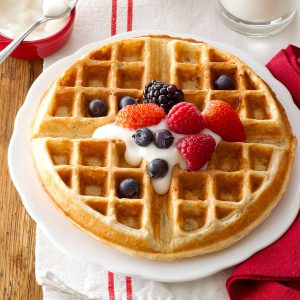 1 3/4 cups flour – use a measuring cup and a level
1/4 cup corn starch
1 tsp. salt
1 Tbs. baking powder
2 Tbs. sugar
2 eggs – room temperature
1 1/2 tsp. pure vanilla extract
1 3/4 cups milk – room temperature
1/2 cup vegetable oil
Quick tip: If you think that this dose will be too much for you and your family, you can always prepare a half dose. In order to get the measurements right, especially the milk and the flour, take one cup of flour and then remove two tablespoons. Repeat the same thing with the milk. For the other ingredients is easy: simply put half of each and follow the preparation instructions.
Instructions:
Use a large bowl to mix together the flour, cornstarch, salt and the baking powder. After you are done mixing set it apart.
Use a different bowl, or you can use one of those measuring cups and mix together the milk, eggs, vanilla, sugar and the vegetable oil. Mix until all the ingredients become one.
Once your wet mixture and your dry mixture are ready, it is time to mix them together. Simply add the wet mixture into the bowl with the dry mixture and stir until you get a smooth and even combination. Make sure your mixture doesn't have any chunks. Use a plastic wrap or whatever you find convenient to cover the bowl and leave it for 30 minutes at a room temperature. This is important for two reasons: the flour will soak up as much liquid as possible and the gluten will have the time to rest. This is the key to making airy and crispy waffles.
Use a plastic wrap or whatever you find convenient to cover the bowl and leave it for 30 minutes at a room temperature. This is important for two reasons: the flour will soak up as much liquid as possible and the gluten will have the time to rest. This is the key to making airy and crispy waffles.
Meanwhile, preheat your waffle iron. I don't recommend using a non-stick spray on the waffle iron because the oil from the mixture will prevent the waffle from sticking. Anyway if your waffle iron doesn't have a non-stick surface, or it has been hard for you to remove the waffles in the past, feel free to cover the surface with a thin layer of butter, vegetable oil or non-stick spray.
Before placing part of the mixture on the waffle iron whisk the mixture lightly to make sure that everything is blended. You don't want any lumps on the bottom of the bowl. Then fill with a little more than 1/3 cup but less than ½ cup of the mixture. Different waffle irons may have different ways of operation, simply follow the instructions from the user's manual for your particular waffle iron. Lift the lid few times to check if they are ready and to avoid overbaking. If you prefer your waffles crispier just leave them a bit longer.
Waffles are the most delicious when you serve them immediately! Cover them with butter, maple syrup, pile them up with different fruits or ice cream. You can garnish it with hard shell fruit, chocolate/caramel sauce or whipped cream! You can even combine them with bacon, cream cheese, eggs, chicken or whatever is your preferable choice! Waffle ice cream sandwiches with a chocolate chip are a delightful dessert! Don't forget to try with frozen yogurt as well. Bon Appetit!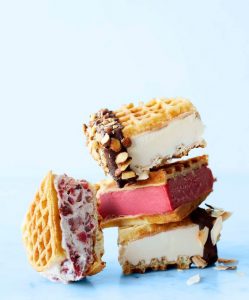 As we mentioned earlier, waffles are the most delicious when served right after taking them out from the waffle iron. But this could be an issue if you are a big family or have a group of friends coming over. Well, there is an easy solution! Simply preheat your oven to 225 degrees F. Place a wire rack on the baking sheet and put the cooked waffles on the rack. The oven will keep them warm. You can also use a toaster for the same purpose. Just make sure is set on low setting. Don't forget to use the wire rack for the cooked waffles because you don't want them to get wet and soft. Leaving them on the toaster will make them extra crispy!
Don't worry if you have some leftovers! Store them and freeze them. When you feel like eating waffles, simply put them in the toaster to warm them up. Be patient because when they are frozen they might take longer to warm up. This is a great option for breakfast if you have a busy week. You can cook them during the weekend and then have a tasty breakfast or a desert in the middle of your busy working week. If you have an oven at work you can also take some waffles with you and make a quick brunch that will brighten up your day!