I bet you never thought that this is possible! But somebody out there was really creative and proved the impossible: yes, you can make delicious waffles even if you don't own a waffle maker! Of course, these waffles wouldn't have the signature crispy edges that only a waffle iron can make. But don't underestimate them until you try. Think about this: do you really want to crave for waffles until you go to a restaurant? I think I already know the answer!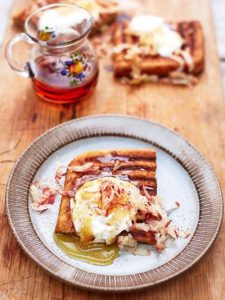 Now I know all of you that can't imagine a lazy Sunday morning without those crispy edges drowning in maple syrup will frown at this idea. But let's help our friends that don't own a waffle maker. The waffle maker is a one purpose gadget and not everybody can afford it. Some people simply don't like to invest in a machine that does only one thing. Plus it can be really a problem to store it if you live with other roommates or in those expensive small apartments in a big city. Not to mention that most of us are rushing every morning and barely have time for a decent breakfast. So I completely understand why some waffle lovers decide not to buy a waffle iron.
I am sure that everybody is super impatient to find out how to make waffles without an actual waffle maker! So I am going to stop rambling and get straight to the process of making waffles without the main tool.
Things that you will need:
Your favorite waffle batter
Grill pan
Spatula
Pastry brush
Butter/ Your preferred type of oil
Wire rack for cooling
Baking sheet
Instructions:
First, prepare the batter. Any waffle recipe will do the job so feel free to use your favorite waffle recipe. If you don't have one in mind, don't worry I got you covered! Read bellow for my favorite waffle recipe.
Recipe Ingredients: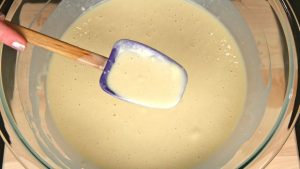 2 cups all-purpose flour
4 tsp baking powder
1 tsp salt
2 tbsp white sugar
2 eggs
1/3 cup melted butter
1 ½ cups warm milk
1 tsp vanilla extract
Recipe Instructions:
Take a large bowl and add the flour, baking powder salt, and sugar. Whisk well to combine them. Once the mixture looks good set it aside.
Take another large bowl. Beat the eggs first. Then add the butter, milk, and vanilla. Stir until all the ingredients are combined together.
After both dry and wet mixtures are ready, it's time to mix them together. Simply add the wet mixture into the dry mixture and mix until you get a nice even combination. Make sure your mixture doesn't have any lumps.
And that's it, simple, quick and easy!
Before you continue with the process, take a few minutes to place a wire rack on a baking sheet. In order to keep them warm heat the oven on low temperature. You will need to keep the waffles on the wire rack once they are ready. The wire rack prevents the waffles from getting steamy and soft. And the oven will keep them warm until serving. This is very important if you want your waffles to stay crispy!
Now let's continue with the instructions on how to make delightful waffles without a waffle maker!
Put your grill pan in the burner. Set on medium temperature. Test the heat by sprinkling some drops of water. If they can't stay in one place, your pan is heated enough. Take your pastry brush and coat the pan with some butter. You can also use oil instead of the butter. Coconut oil works great for this purpose.
Pour half a cup from the waffle mixture into the pan. Give it couple seconds to form a circle. Don't worry if you can't form a perfect circle. It is totally normal because the grill pan has ridges all over. Cook on low temperature for about 3 to 4 minutes. Don't rush your waffles! It is very important to cook them at low temperature because this allows the batter to form the ridges from the pan.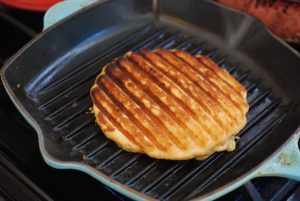 When you see those bubbles on the top and dry brown edges it's time to flip the waffle. Use the spatula to gently turn the waffle on the other side. Try to place the waffle in a position where the ridges are facing the same direction as the other side. Anyway, if this is too challenging for you don't lose hope – they are going to be delicious either way!
After you flipped it, lightly press the waffle with the spatula. You want to do this so the other side can get some ridges too. Wait for about 2-4 minutes. When the other side gets that nice brown color remove the waffle from the heat and put it on the wire rack in the oven to keep it warm until serving.
When you finish making all the waffles, serve them immediately with your preferred topping. Now, this is the part when you can get creative. You can do the traditional thing and pour some maple syrup on the top, or play around and make a delicious sandwich with a sausage or bacon, eggs, and cheese. Whatever you feel like eating at the moment. I love my waffles with a scoop of vanilla ice-cream in the middle and bunch of berries around. Then I like to finish it up with a chocolate sauce and chopped hazelnuts on the top.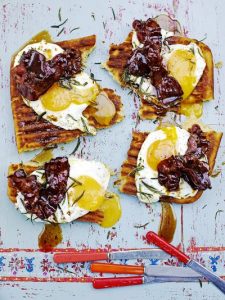 I am not saying that these waffles will taste exactly the same as the ones made in a waffle iron. After all the waffle iron is specially designed to bring crispiness and texture on a higher level! Waffles made in a waffle iron have sharper edges and a different texture, that welcomes more maple syrup or other toppings. But these waffles will satisfy your cravings for sure! At least you won't have to leave the house every time you have cravings and spend money at a restaurant to enjoy some fresh warm waffles.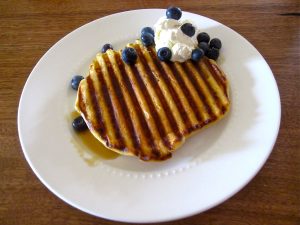 Believe me, you won't regret if you try these DIY waffles. If done correctly, they can be super crispy and an excellent breakfast or a dessert!