Searching for a waffle recipe that doesn't include eggs might be challenging. Eggs are considered an essential part of many recipes, but that doesn't mean that you can't prepare delicious baked goods without eggs. I know that there are many people that can't have waffles with eggs because of an egg allergy because they are vegan or other personal and medical reasons. Or you simply want to have waffles for breakfast or dessert but you ran out of eggs.
Furthermore, If you are one of those people who can't or don't want to eat eggs, let me cheer you up!  Did you know that you can totally cook and eat waffles without eggs. And you won't even notice the difference! Be aware that not every eggless waffle recipe works well and sometimes you have to experiment and try many others before you find the one that you will stick to. When you cook waffles is all about making them delicious, airy from the inside and crispy on the outside. And if you think that this wouldn't be possible without eggs in the batter I will prove you the opposite. Take a look at this waffle recipe without eggs and surprise your family with some delicious eggless waffles.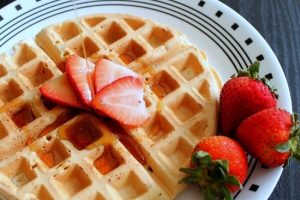 Waffles Without Eggs Recipe
Ingredients:
1 cup all-purpose flour
¼ cup whole grain flour
2 tsp baking powder
2 tbsp sugar
a pinch of salt
1 ¼ cups water (room temperature)
2 tsp vanilla extract
2 tbsp oil
Instructions:
First, preheat your waffle maker. Do this while you make the batter. The preparation of the batter shouldn't take more than 5-6 minutes, so use that time to prepare your waffle iron for cooking.
Second, in a mixing bowl put the flour, baking powder, salt, and sugar. Whisk them together until you get an even combination. Set aside.
Next, take another mixing bowl and mix the wet ingredients. Add the water, vanilla extract, and the oil and mix everything together.
After both mixtures are ready it is time to mix them together. Simply add the wet mixture into the dry mixture and whisk until you get an evenly mixed combination without lumps.
If your waffle maker doesn't come with a non-stick surface, coat the surface with some oil to avoid the waffles from sticking onto the waffle plates. Even if your waffle maker has a non-stick coating, but you experienced a hard waffle release in the past feel free to grease it with some oil to avoid that kind of situation.
Afterward, pour the batter onto the waffle maker surface and close the lid. Make sure you follow the cooking instructions given in the manual of your waffle maker.
The waffles made without eggs require more time to crisp. Because of that, you might need to bake the waffles a bit longer than usual in order to make them gold brown and crispy.
Waffles are the best when served immediately. So, if you want to keep them warm and crispy until serving, preheat your oven to low temperature and place a wire rack on a baking sheet. Place the waffles that are ready on the wire rack and put them in the oven.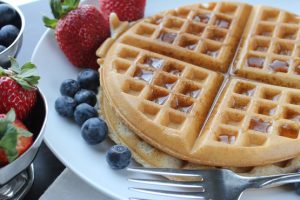 Several tips and variations:
 If you don't have a whole grain flour, you can substitute it with an all-purpose flour
You can substitute the water with milk. Additionally, if you are a vegan or have a dairy allergy you can use almond, soy or other non-dairy milk.
 If you want to add more flavor to the batter, simply add ½ tsp of cinnamon powder and sliced banana.
For a delicious chocolate, dessert add semi-sweet or dark chocolate chips in the batter. Most of them are vegan, but you should check the ingredients just in case.
You can add different things to the batter if you wish.
If you prefer butter than oil, feel free to substitute the oil with butter.
My favorite part when cooking waffles is decorating them. I like to take my time, mix different toppings, syrups, pile them up with fruits and make them irresistible! This is the time when you can get creative, especially if you have kids. Your little ones will be so excited when they see your artistry on the plate. Even I as an adult love when my plate looks fun and appealing!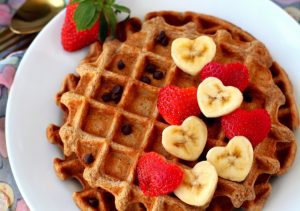 I hope I erased some of your doubts about making waffles without eggs. This eggless waffle recipe is easy to make and the whole preparation procedure is almost like making regular waffles, except the eggs. Give it a try because there is no reason to obstinate from waffles just because you can't or don't want to eat eggs.