I am so excited to share with you the funniest and most interesting character waffles makers. Believe me, these compelling waffle forms will satisfy even the pickiest eaters! Your kids will be so excited to decorate their favorite faces from the cartoons. Every new bite is full of excitement because your little ones can see how the form changes as they eat their waffle. And you won't have to convince your kids to finish their breakfast because they will fall in love at the first sight! Let's take a look at the top waffle makers with forms for kids and bring a smile to those pretty little faces!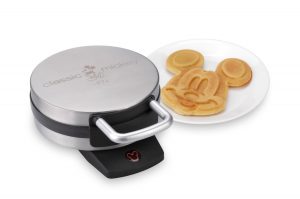 This is definitely one of the most favorite among the youngest. Micky Mouse's face is a great canvas where your kids can use their imagination, have fun and decorate with different toppings, syrups, and whipped cream. Overall is a great waffle maker with non-stick coating for easy waffle release and Mickey shaped power and ready light indicators. You can also use this waffle maker to prepare grilled cheese sandwiches or hash browns.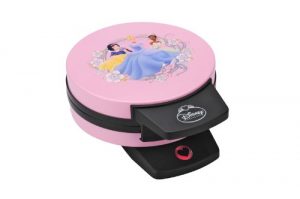 These sweet and girly waffles with a crown, heart and a princess are everything your little princess needs for her breakfast or a dessert. In order to bring even more excitement, you can color a whipped cream in pink and purchase small sugar-dough or chocolate hearts for decoration. This waffle maker comes with non-stick plates that are easy to clean and heard shaped light indicator.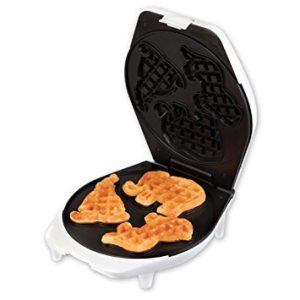 This waffle maker cooks waffles in the shape of circus animals. Also, you are going to be able to make three fun waffles at a time. The non-stick waffle surface will provide an easy waffle release and cleaning. Additionally, this waffle maker bakes waffles for only a few minutes and there is a recipe book included to give you different ideas and inspiration for cooking.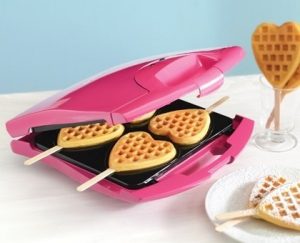 How cute are the heart shaped waffles on sticks? These adorable mini waffles will attract even the pickiest of your kids. Don't hesitate to play with different toppings and make these heart shaped waffles even more appealing. You can actually deep the whole waffle in a syrup and eat it like that! The non-stick plates will release 4 perfectly shaped hearts at a time. Additionally, the packaging includes 50 wooden sticks, metal shaker, and recipe book.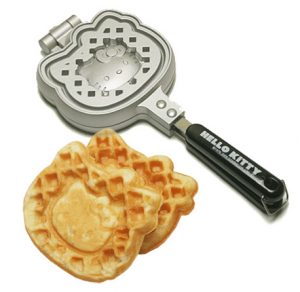 Now your little diva can have a Hello Kitty shaped waffles for a breakfast or a dessert! The absolutely adorable design will instantly bring your kids to the table and make them eat every bite from these waffles. Also, you can give your kids a chance to be creative and let them decorate their meal by themselves. In addition, the non-stick waffle plates will enable you to release a perfect Hello Kitty shaped waffle.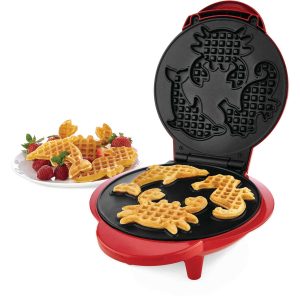 Similar to the circus waffle shape maker, this one will make 3 sea animal shaped waffles at a time. Don't worry about flipping the waffles while baking because both sides provide even heat. The seahorse, dolphin and the crab will brighten up your kid's day! Furthermore, the non-stick coating will provide effortless waffle release and trouble-free cleaning process. Also, features a compact design to save you storage space.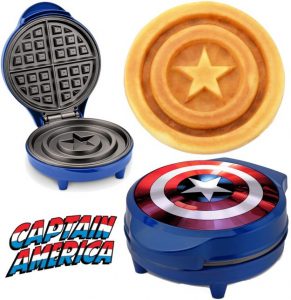 This waffle maker will probably be more appealing to the boys. Makes one decent size waffle at a time with the Captain America's superhero trademark. You can get some icing or color a whipped cream and let your kids decorate Captain's America shield as they prefer or as it really is! Moreover, this waffle maker features a dual light indicator and non-stick baking plates.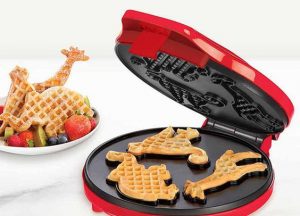 Built an animal kingdom in the comfort of your home with this fun waffle maker. The elephant giraffe and lion are the three available waffle shapes and all of them are cooked at once. This waffle maker cooks each side of the waffles evenly so you don't need to flip them while baking. Additionally, you won't have any problems with removing the waffles from the waffle plates thanks to the non-stick coating.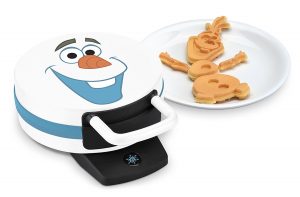 This waffle maker makes 5 piece Olaf shape waffles, more precisely the waffles include Olaf's head, body, and arms. The happy Olaf's face will smile at you every time you close the waffle maker's lid. Besides that, there is a snowflake shaped power light, non-skid rubber feet, and non-stick cooking surface. Set your imagination free and create some artistry on the plate! You can use regular whipped cream to create snow all around the Olaf-shaped waffle. Your kids will love the outcome!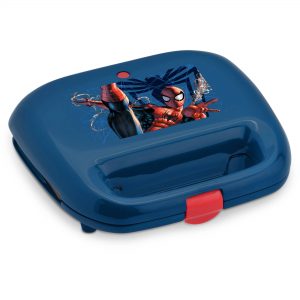 You can easily skip the convincing process to make your kids eat their breakfast because this Spiderman waffle maker will keep your little one at the table. You can even surprise your husband because not only kids love Spiderman! Besides the cool shape, this waffle maker cooks delicious waffles, crispy on the outside and fluffy on the inside. Additionally, the non-stick coating provides a hassle-free baking and cleaning.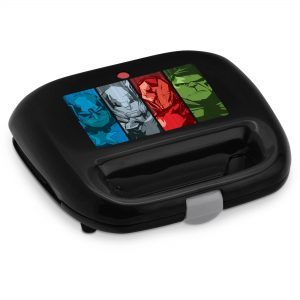 Bring fun to your regular Sunday morning waffle routine with this cool waffle maker. The Avengers waffle maker cooks 2 delicious icon waffles at a time. Moreover,  there is an illuminated power light to let you know that your waffle maker is turned on. Also, there is a non-stick surface to make the waffle removal easy and the cleaning uncomplicated.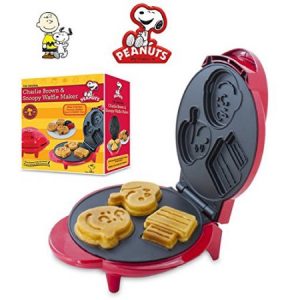 Bring the happy faces of Charlie Brown and his friend Snoopy on your kitchen's table within few minutes with this waffle maker. There is a non-stick coating that allows you to make 3 perfect shape Peanuts waffles at once. Also, the front surface features a cute scene of the everyday life of these characters.