If you are one of those who lives on the healthier side or is gluten intolerant, you are in the right place! In this article, I am going to talk about making delicious waffles without flour. Finding a substitute for the regular all-purpose flour is highly requested nowadays. Therefore, I want to keep pace with all new trends and requests when it comes to waffles. I am aware that a lot of you would be like 'Oh come on, what happened to the good old waffles that we all used to eat throughout our childhood?' But the world is changing, so are the waffles! After all, these are just options and variations of their majesty, the waffles. And is always a good thing to have a choice, right?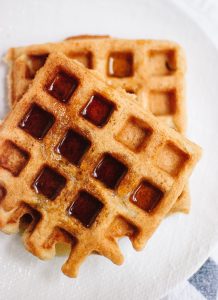 On the other hand, a lot of people have gluten intolerance and these flourless recipes will allow them to enjoy this flavorful treat! I am so excited to share with you these easy and helpful recipes on how to make waffles without flour. I promise you, they are as delicious as the regular ones! For all the details take a look below.
1. Flourless Paleo, Gluten-free Waffles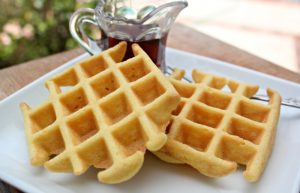 This is a simple and easy recipe that requires only a few ingredients. The best part about these waffles is that they are completely flourless and have a slightly nutty taste. Besides that, they are very low in carbs, paleo and gluten-free. They turn gold brown and crispy on the outside and fluffy on the inside. They are just as delicious and irresistible as the regular waffles! You can eat them as they are or use your imagination and create a topping madness!
Ingredients:
4 Eggs
½ cup Almond butter
½ tsp Gluten-free baking powder
1 tbsp Erythritol or another sweetener (coconut sugar is a good choice)
*add a pinch of salt if you use unsalted butter
Instructions:
First, you will need to mix all the ingredients together. For this purpose, you have many options. You can blend them manually using a hand mixer, or you can mix them in a blender or food processor.
Next, prepare your waffle maker for an action. Coat the waffle maker with some oil and turn it on. Follow the instructions given in the user's manual to properly preheat the waffle iron.
Then pour a sufficient amount of batter onto the waffle plates, spread it evenly and close the lid. Always follow the instructions given in your manual while cooking. Continue with the same thing until all the batter is used.
2. Flourless Plantain Waffles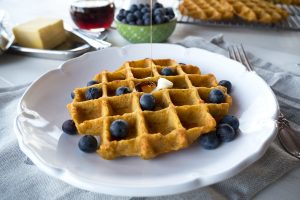 This is another recipe with just a handful of ingredients. Busy waffle lovers will love this recipe because is so easy and quick to prepare. Besides the flour, this recipe doesn't include many traditional waffle components. Additionally, these waffles are dairy, grain, nuts, eggs and refined sugar-free.
Ingredients:
2 ripe plantains
2 spoons liquefied coconut oil
½ spoon vanilla extract
½ spoon baking soda
1 spoon cinnamon
1 spoon apple cider vinegar
Instructions:
First, mash the plantains. Then add the liquefied coconut oil in the plantain puree and mix them together. Afterward, add all the other ingredients and mix until you get an even combination.
Next, brush your waffle maker with some coconut oil and preheat it. Please follow the instructions given from the manufacturer throughout the cooking process.
Pour enough of the mixture in your waffle maker and distribute it evenly. Bake until the waffles get a gold brown color.
One important thing I want to bring up is to choose ripe, yellow plantains with black spots all over them. These plantains are very soft and make a nice and smooth puree.
Also, keep in mind that these waffles are softer than the regular ones. They are crispy here and there but not as much. Anyway, they are super flavorful and melt in your mouth!
3. Flourless Apple Cinnamon Waffles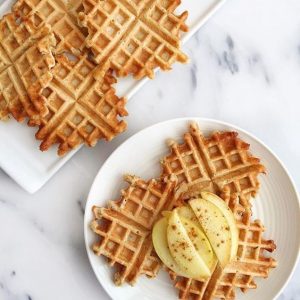 These waffles are completely vegan and gluten-free. But be aware that you need to use gluten-free oats. I feel that I don't even need to explain to you why they are so delicious. The classic duo apples and cinnamon give a rich water mouthing taste. They are as crispy as regular waffles but soft and fluffy on the inside. Read below how to prepare a breakfast or a dessert that the whole family will be crazy about!
Ingredients:
2 eggs
2 tablespoons unsweetened applesauce (at room temperature)
1 cup unsweetened almond milk (at a room temperature)
4 tablespoons liquefied coconut oil
1 container Apple Walnut Oats (brand: Modern Oats)
½ tsp baking powder
1 cup oat flour (blend it yourself in a food processor or blender)
½ tsp cinnamon
¼ tsp nutmeg
Apples for decoration
Nuts for decoration (optional)
Instructions:
First, beat the eggs and then add all the other ingredients. Whisk until you get an evenly mixed combination.
Leave the mixture to sit for couple minutes to thicken. If you feel that your mixture is too liquid add a bit more of the oat flour.
Coat your waffle maker with a thin layer of butter or oil. Preheat it according to the instructions given in the product manual. Add the needed amount of batter in your waffle iron and close the lid. Bake according to the instructions from the manufacturer until the waffles get an appealing gold brown color.
Place a few slices of caramelized apple on the top of each waffle and sprinkle with chopped nuts by your preference.Caramelizing apples is very easy. Simply put butter in a frying pan over medium heat. Add a bit of sugar over the butter. Whisk for about one minute. Once the sugar melts add the apples. Sauté for about 10 minutes until apples get a nice brown color.
In case you have some leftovers feel free to keep them in a refrigerator up to 5 days.
Well, I hope that I helped you to get some ideas on how to prepare flavorful waffles without flour. I wanted to give you few options in order to accommodate everyone's need for flourless waffles. Because I am aware that some of you simply want to avoid regular flour because of your healthy lifestyle. But some of you are probably gluten intolerant. I added a vegan option as well because I know that among our readers there are a lot of vegans who love waffles. Don't hesitate to brighten up your morning with these toothsome waffles without flour. I assure you, they are as delicious as the regular waffles!