If what you want for your waffles is an even cooking without burning than you should definitely buy a ceramic waffle maker. The ceramic coating offers a very good, non-stick surface and a high scratch resistance. Ceramic distributes the heat evenly,  up to 600 degrees Celsius, making sure the result is perfect. Another reason for the growing popularity of the ceramic utensils is that they are easy to clean.
The ceramic waffle makers are relatively cheap and sturdy. They are made of safe materials with concern for the health aspect.
With all that in mind, here are the best ceramic waffle makers on the market today.
In case you want to check a complete buying guide with best waffle makers go to: Best Waffle Makers With Buying Guide .
The sooner you get yourself a Presto waffle maker the faster you'll enjoy professional-style, extra-thick, 7-inch diameter Belgian waffles with four easy-to-cut sections. The rotating design guarantees perfect baking and a countdown timer with digital display signals when the waffle is ready. The space-saving design comes in handy when you want to keep the appliance within close reach and still not crowd your kitchen counter.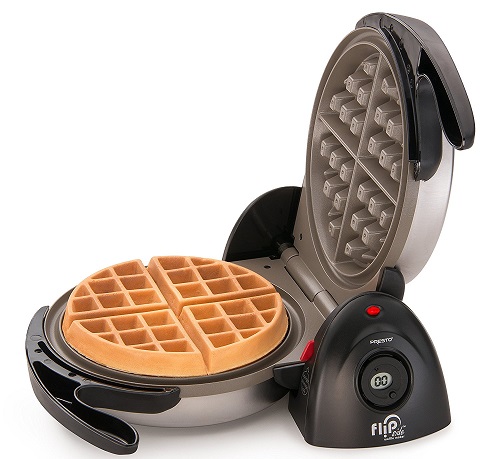 If you want to enjoy exquisite quality, Belgian waffles the Bella waffle maker is worth considering. The special ceramic copper titanium coating is 8 times more durable and cooks up to 30% faster than standard non-stick coatings. The coating does not contain harmful chemicals and is PTFE and PFOA free.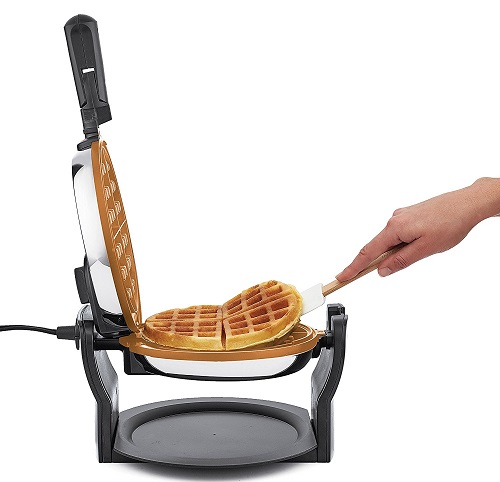 With an eye-catching, sleek, red exterior, the Cooks waffle maker is a very inspired gift, especially for the winter holidays! It has handy lights that signal when the iron has reached the ideal temperature and also when the baking process is complete. The flip function and the removable dripping tray make up for an effortless, messy-free experience.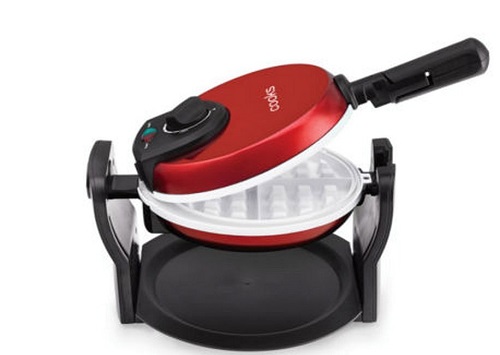 Looking for a sturdy appliance, capable of serving multiple portions in short time? This Oster model has an innovative DuraCeramic, non-stick coating that lasts 10 times longer compared with other non-stick surfaces. This exclusive cooking surface is infused with extra virgin olive oil so that there is no need to spray it before you start baking.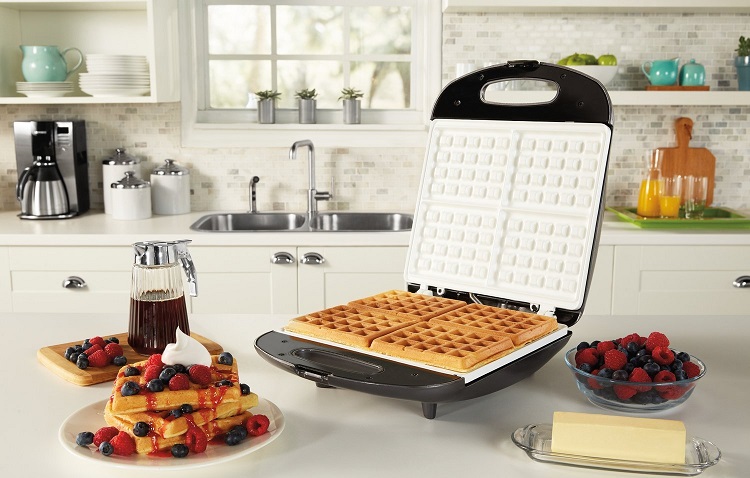 Hamilton Beach has a great reputation when it comes to small appliances and it proves it's worth once more with this Durathon waffle maker. The ceramic coating is 4 times more durable than other traditional, non-stick surfaces and it won't crack or peel. Adjustable browning control helps the user enjoy a customized experience. The deep grid design is perfect for baking traditional waffles and help keep the kitchen clean.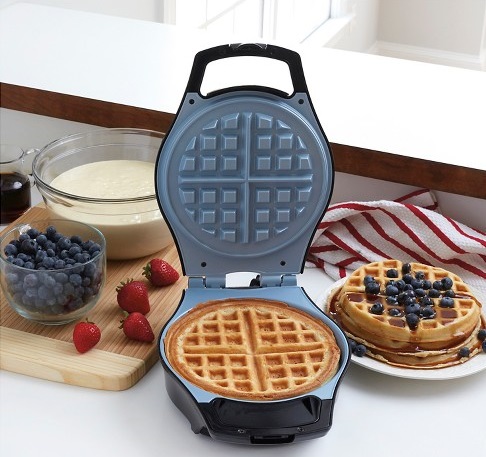 Oster has a wide variety of waffle makers. Some are bigger, some smaller, and they also vary on the price of the unit.
However, we decided to go for DuraCeramic because it has the best features one would look for in the best waffle maker: it's not too expensive, it's not too big nor is it too small and it is easy to clean.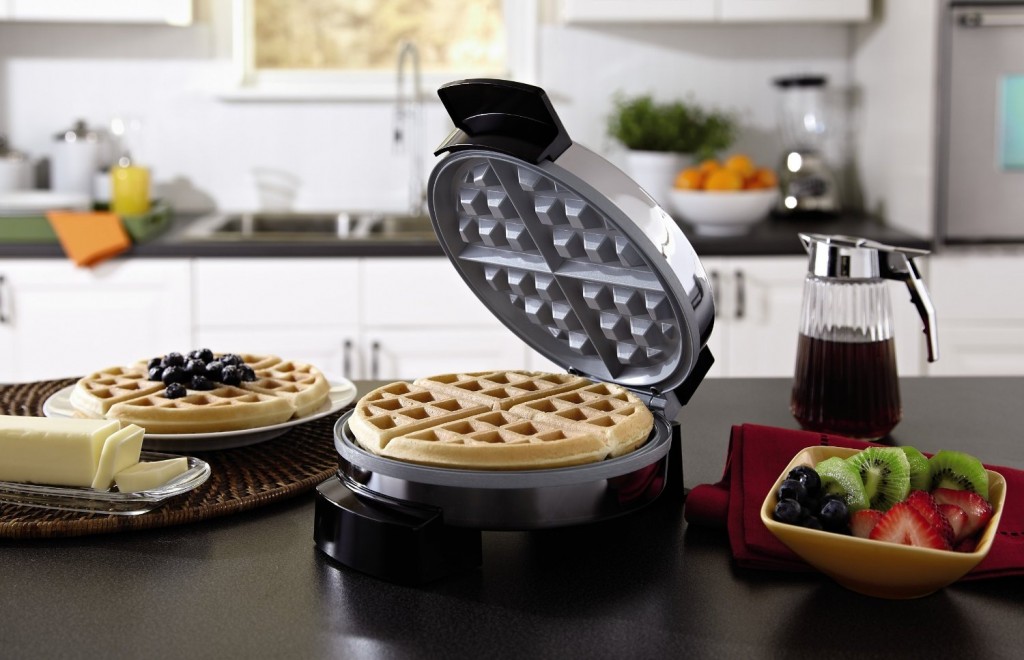 The device is designed with a unique, non-stick coating which, as the manufacturer claims, lasts 4 times longer than the standard non-stick coatings.
It won't flake or peel. The device finishes cooking up to 20 percent faster and has controls for adjustable temperature.
Euro Cuisine WM520 Eco Friendly Heart Shaped Waffle Maker
The waffle maker from Euro Cuisine is one of the best gift choices you can get today. It is eight inches long and shaped like a heart, meaning you will get heart-shaped waffles out of it.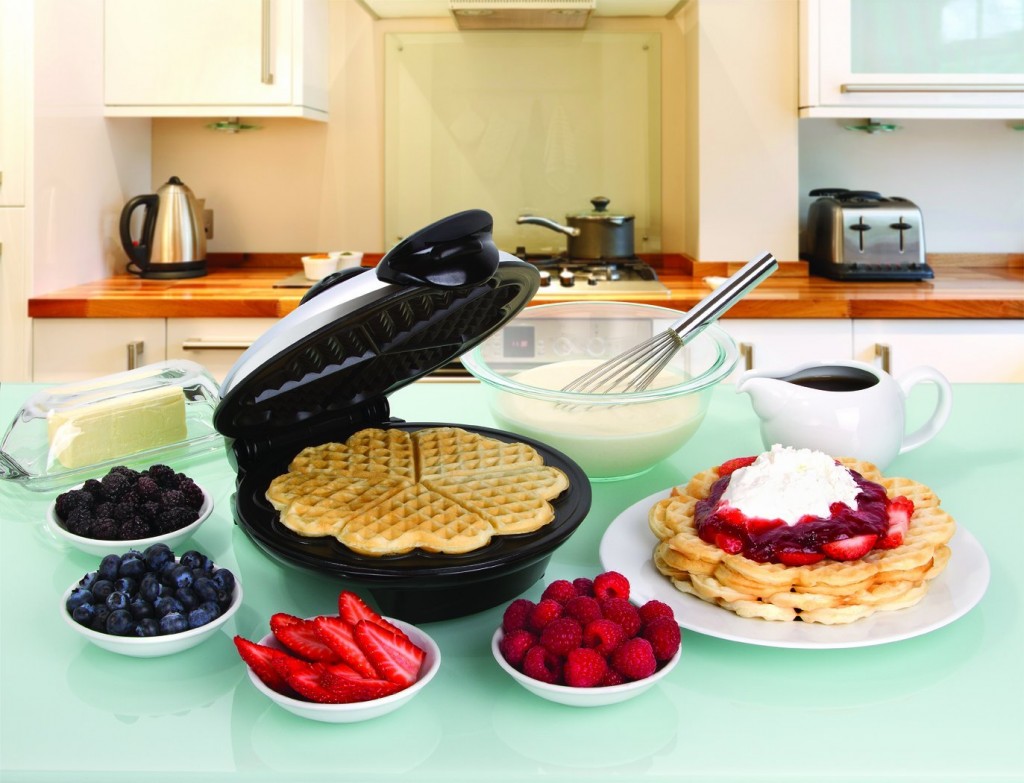 It has the Eco-Friendly non-stick ceramic coating (PTFE and PFOA Free Non-Stick Plates) and is capable of making five heart-shaped waffles at a time. The device comes with adjustable settings which let you control the cooking process and give you the precision you need to make the perfect waffle.
Caphalon's No Peek ceramic waffle maker is among the best there are. It features the exclusive Opti-Heat System, designed to provide accurate temperature control and even heat delivery.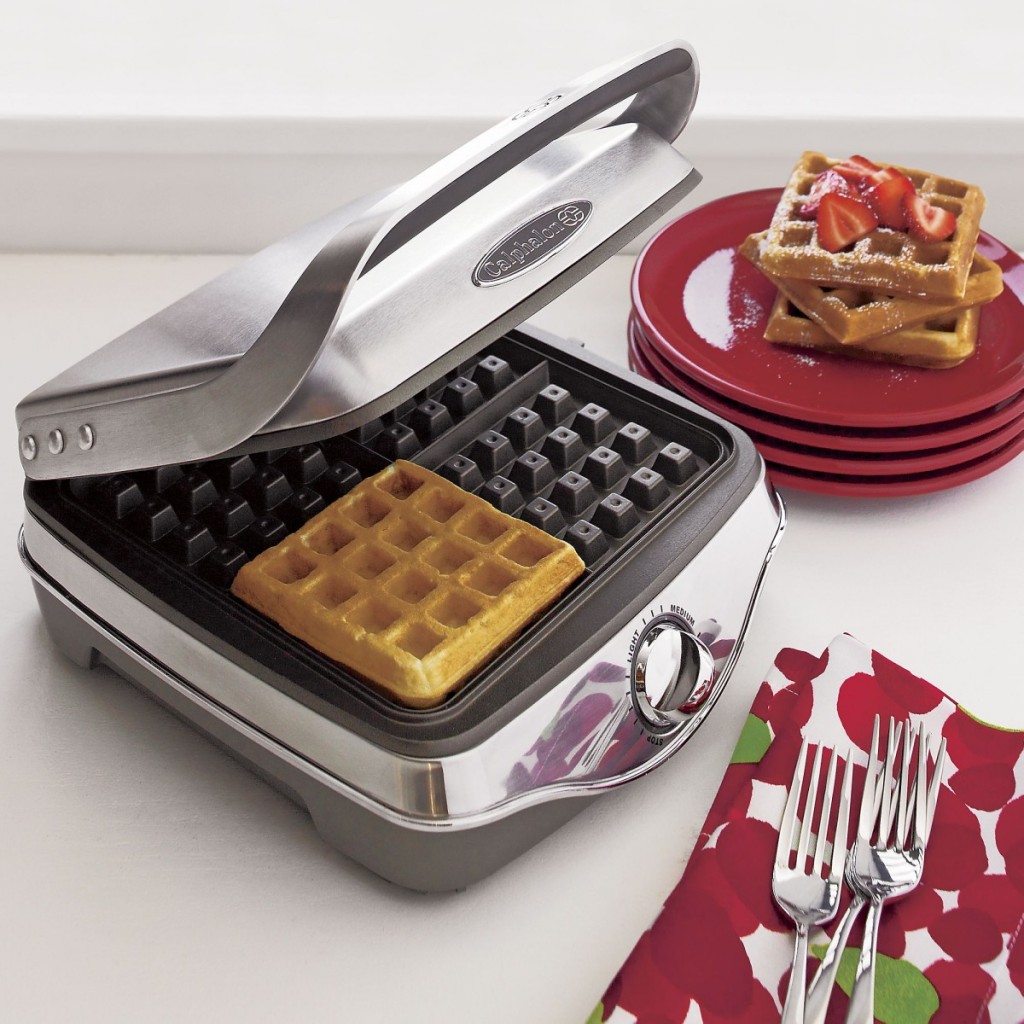 No Peek will cook evenly and thoroughly, every time. But one of the best features of this unit is that it has an illuminated No Peek progress indicator, which shows the browning progress of your food without actually lifting the cover.
It comes with three different temperature settings: Light, Medium and Dark, and chimes when the food is ready.  Plus, it boasts a handy, auto-shutoff feature.
The Dura Ceramic coating is a signature for Oster Waffle makers and brings remarkable benefits for its users. Enjoy 4 times more durability and save energy. The "flip" function allows to evenly cook a perfect Belgian waffle while the adjustable temperature control conveniently allows a custom expression of taste: for light and fluffy or crispy waffles. The safe, natural ceramic coating is PFOA and PTFE free, so you can enjoy your food without any worries.It is easy to wipe clean and the unit stores vertically for efficient, space-saving storage.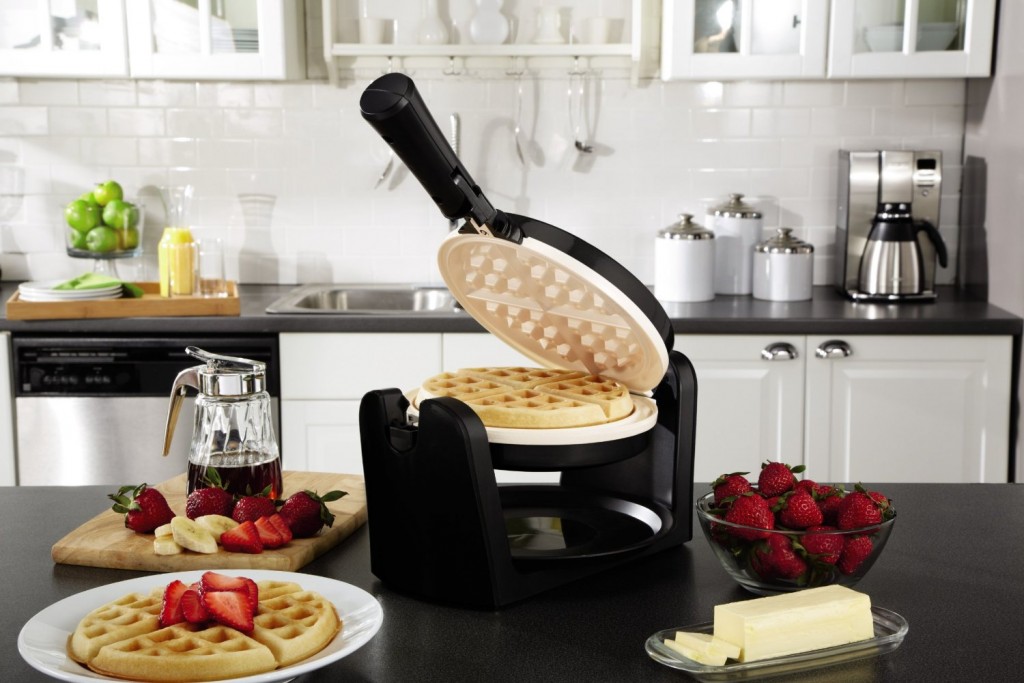 Take your waffles to the next level with KitchenAid Waffle Baker. Get ready to develop a taste for an elite breakfast experience! It has some helpful features like: preheat indicator, overbake indicator, digital countdown timer, and automatic shut-off. Waffles bake at a constant temperature and a cooking timer controls the waffles' browning to make sure you get the perfect results. The nonstick, ceramic waffle plates are easy to clean – just wipe with a paper towel or a wet cloth.
As you can see the market is abundant when it comes to ceramic waffle maker models. It is easy to find one that fits your kitchen perfectly.  All you have left to do is put your apron on, start trying different recipes and enjoy lovely memories with friends and loved ones!