Freshly baked waffles, topped with cream and fruits, for breakfast seems a tempting idea. A waffle press makes life easy and allows you to bake the restaurant-style waffles in a few minutes. The only drawback is the time-consuming chore of cleaning the waffle maker afterwards. The hustle and bustle of our daily schedules often deter us from pampering ourselves with a delicious breakfast as cleaning the mess later and removing the dry batter out of the crevices is a tough job.
A waffle maker with removable plates solves this problem and makes life easy. Now, you don't have to keep yourself from having your favorite breakfast just because you don't have time to clean the mess afterward.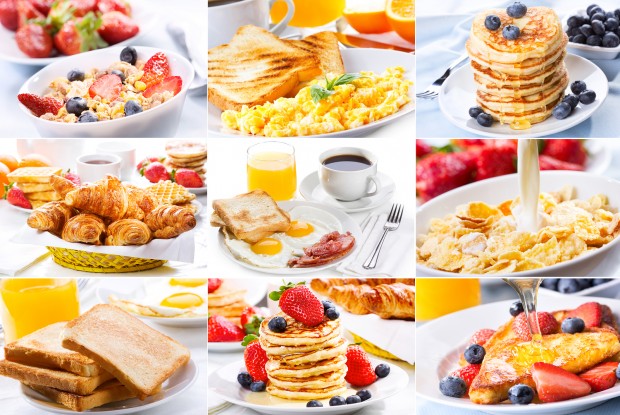 Difference between a regular waffle maker and the one with removable plates is obvious. You can't submerge the normal waffle maker in water that makes the cleaning complicated. A waffle maker has so many sides, crevices, and narrow areas where the batter or dough sets in and dry with heat. Removing this dry batter from tiny spaces can be tricky. Using a hard brush, fork, or knife can damage the external coating of your appliance and may shorten its lifespan.
With removable plates, all you have to do is to remove these plates, and you can simply dump them into a dishwasher. They can also be cleaned easily in the sink under tap water. That does the job easily and saves a lot of time and energy.
Benefits of a Waffle Maker with Removable Plates
A waffle maker with removable plates can be useful in more than one ways.
Time-saving: It saves a lot of time. You don't have to spend hours removing dry batter from every corner of the appliance. Simply put the plates in a dishwasher, and the rest is easy.
Easy to use: Removable plates make life easy and your appliance does not just sit on the kitchen counter, gathering dust. You can make use of it more often as it is easy to operate and clean.
Multi-tasking appliance: A waffle maker with removable plates is not just a waffle maker but often is a multi-tasking home appliance. It often comes with other plates and can be used as a grill, griddle, waffle maker, or sandwich maker. You can bake pancakes, grill veggies, or even scramble eggs on these irons.
Saves space: kitchens in small apartments small and an appliance that does many things and covers less space is a boon.
Things to consider while buying a waffle maker with removable plates
Cost of the waffle maker
Plan how much you are willing to pay. There are a lot of options in the market ranging from normal price to the cheap ones, and some of them are expensive. Knowing your budget helps you to look for the specific waffle maker that serves the purpose within your price range, and you don't end up spending more than you have to.
Type of waffles you prefer
Waffles can be baked in some ways. Some of us like soft and fluffy Belgian waffles, while other prefer waffle in a classic style that is thin and crispy. Buy a waffle maker that bakes waffles as you prefer. Belgian waffle makers have large grids and make deep pockets for filling, while thin waffle makers have small squares and bake thin and crispy waffles.
The material of plates
The material of plates makes a difference. Nonstick plates release the waffles easily. Cleaning them is also a breeze, and you do not have to brush oil on the surface that is great for those who follow the healthy diet plan.
Temperature control
Temperature control helps to bake perfect waffles and gives consistent results every time. It is also helpful if you have a family with diverse preferences. Some of us like a light golden colored waffle, others may enjoy hard baked and brown color. So, temperature control helps to cater all needs and bake perfect waffle of your choice
Capacity
If you have a large family or need a waffle maker for commercial use then buying the one that bakes more than one waffle at a time can save a lot of time. Some of the waffle makers make two or more waffles at a time, and some have a larger area for baking many waffles at a time.
Other bells and whistles
Like other appliances, waffle maker also comes with a lot of bells and whistles like light indicators to alert when the appliance is hot enough, or when the waffles are ready. These options are helpful especially if you are doing many chores at a time while waffles are baking. An auto shutoff appliance is automatically shut off when the waffles are ready saving energy and inconvenience of overcooked or burnt waffles.
Best Waffle Makers with Removable Plates
If you are looking for a waffle maker with removable plates, then this post can help you find a perfect waffle maker. We have compiled a list of some of the best waffle makers in the market and have given the pros and cons of each. Have a look and choose the one that meets your requirements.
The Hemilton Beach Belgian Waffle Maker is the perfect way to prepare a tasty breakfast for your family, at home. It is the best among the chosen few. This Belgian Waffle Maker professionally bakes golden brown, downy waffles and provides you with complete flipping control that will make you come up with restaurant quality waffles.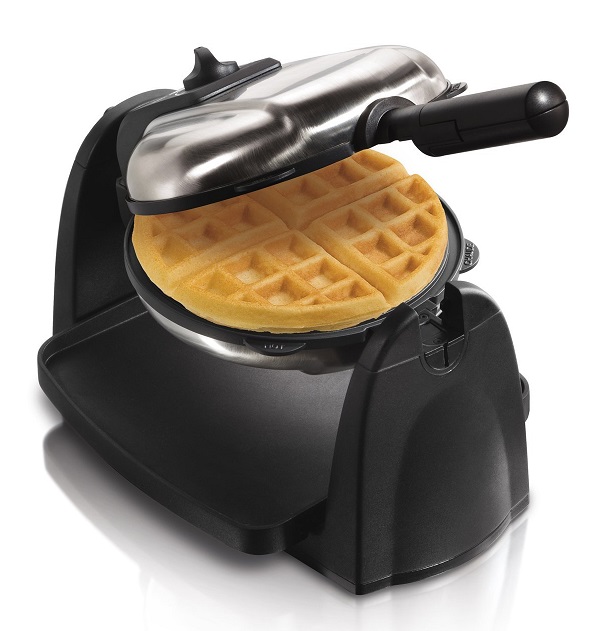 It is designed to help you enjoy thick waffles with Belgian-style grids to accommodate a lot of toppings.
Pros
Bakes thick and fluffy waffles.
Removable plates make cleaning easy.
Flips for a smooth texture and consistent results.
Adjustable temperature for perfect turn out.
Power on and ready to cook light indicators.
Nonstick plates for easy release and cleaning.
Supports healthy eating as the nonstick surface does not require any oiling.
Cool touch exterior to prevent accidental burns.
Cons
Have no indicator to warn when the waffles are ready.
Apart from being a waffle maker, this Black & Decker model can also grill hamburgers, sandwiches, hamburgers and lots more. It is a versatile home appliance that can griddle, grill and also serves as a waffle maker. It features inter-changeable plates that make it easy to cook breakfast or dinner fast. This nonstick 3-in-1 waffle maker prepares nine square conventional waffles in four different sections.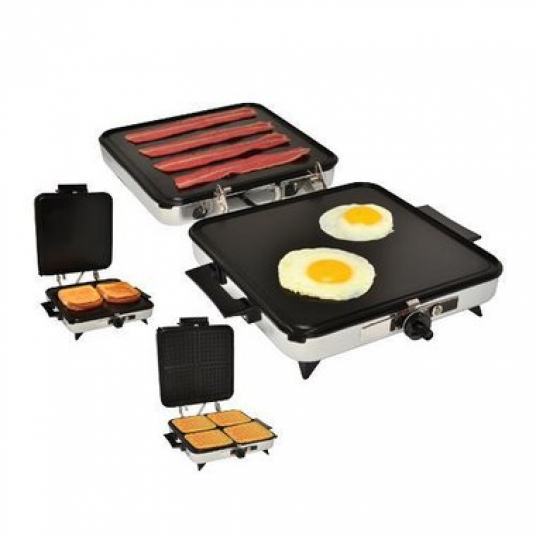 The two 8-inch-square cooking plates with a set at the base and the other one at the hinged top are the key to the flexibility of this particular product. The top opens flat to make griddle space to form two 8-inch-square cooking surfaces for any type of food that you love: a griddle including eggs, hash browns and pancakes.
With all these amazing features, Black & Decker 3-in-1 Waffle Maker makes for an ideal gift on any occasion.
Pros
A versatile appliance works like a waffle maker, grill, and griddle.
Easy to use.
Large capacity. Grids bake four waffles.
Removable plates make cleaning breeze.
Heavy flat cover ensures equal distribution of batter.
Nonstick coating that is ideal for healthy eating and easy to clean.
Cons
Temperature control offers only medium, low, and high options not the precise temperature.
Does not have a dripping tray.
No light indicator for alerting when the waffles are ready.
Are you looking for an efficient way to make snacks, desserts and waffles? This waffle and sandwich maker will do just that. You can use the sandwich plates to make pocket sandwiches at any particular time of the day. You can also make use of the waffle maker to make tasty crispy waffles for breakfast.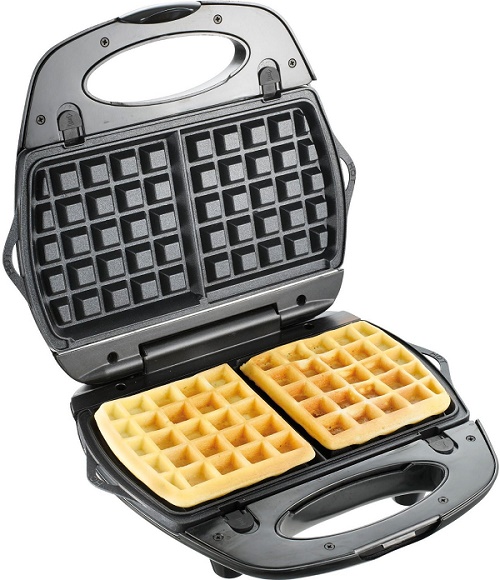 It comes with a lot of features including two sets on exchangeable, non-stick surfaces to make your life easier. These features will offer you value for your investment. A convenient indicator light tells you that the power is on and the unit is set for operation. Dishwasher safe feature makes cleaning a breeze.
With T-fal SW6100004 EZ sandwich and waffle maker, you will conveniently make high quality and delicious turkey and sandwiches in an easy way. It is easy to maintain, and dishwasher safe. Despite the fact that it is a bit pricey, it will meet your needs and expectations!
Pros
Multi-tasking appliance works like a waffle maker and sandwich maker.
Removable plates that are dishwasher safe.
Nonstick coating that makes cleaning easy.
A light indicator to tell when the appliance is ready.
Press lock cover that ensures even distribution of batter.
Cons
Bit pricey.
Does not alert when the waffles are ready.
Does not come with temperature control.
Are you in a hurry and want to cook something fast? The ZZ S6142 Sandwich Maker is the perfect choice for you. It is the ideal way to prepare scrumptious waffles, sandwiches and breakfast. The model looks nice and fits most kitchen styles, it is easy to use and store. It heats up fast and the top lid has two LED lights to indicate when the appliance is on and when it reaches the appropriate temperature.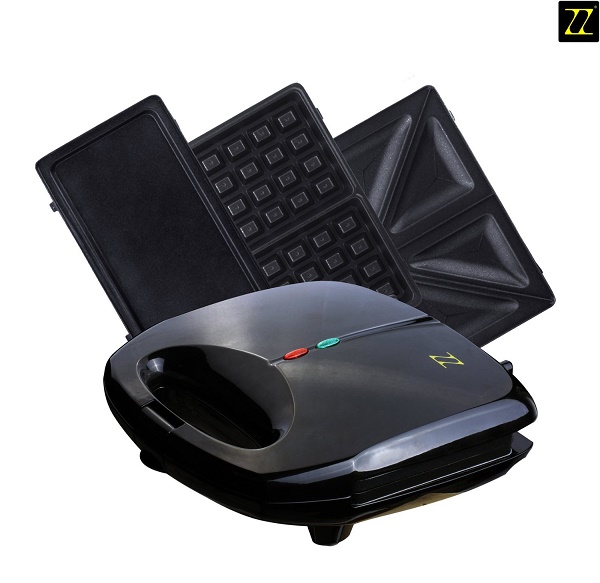 Oster Flip Waffle maker is designed with a matchless, ground-breaking, non-stick coating that will endure 4 times longer than the normal non-stick coatings and will neither peel nor flake. In order to help you cook with full confidence, it features a safe, normal ceramic coating that has no PTFE/ PFOA or PTFE. This particular product prepares food 20% faster, so that you can save up time for more fun activities.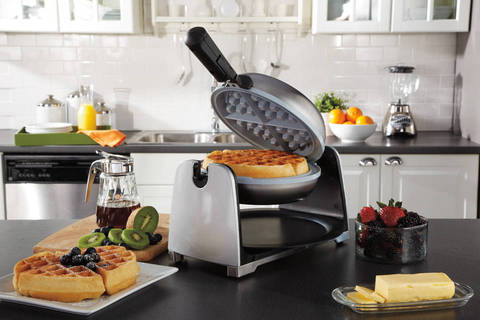 This flip waffle maker doles out batter equally and prepares flawless waffles. It comes with an adjustable temperature control that sets cooking temperature perfectly to deliver results from light, downy waffles to crispy, golden waffles.
Pros
Makes fluffy Belgian waffles.
Flip and rotates for equal distribution and even texture.
Power on and ready indicators.
Can be stored in a small space with vertical storage design.
The non-stick surface that releases the waffles easily and requires no oiling.
Temperature control for baking both crispy and fluffy waffles.
Small and easy to carry appliance.
Cons
Works only as a waffle maker.
Small appliance and bakes smaller waffles.