For many of those who love waffles, these delicious treats are more than a meal- they represent quiet mornings shared with the loved ones, shrouded in flavors and textures, caressing the senses. In order to make a good waffle,  a good waffle maker is essential. They come in various shapes and sizes and you must always remember that a low price does not mean low performance while a high price is, sometimes, the result of an expensive marketing strategy.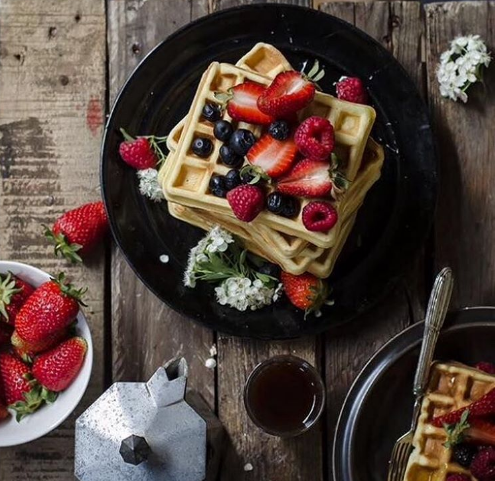 In the following post you can check out some helpful tips to make sure you get a good waffle maker and in the end some points on the advantages of using a rotating waffle maker.
Before buying a waffle iron, make sure that the unit meets your expectations in terms of comfort, performance and safety.
Aspects to Consider When Buying a Waffle Maker
Opening System- The Advantages of Using a Rotating Waffle Maker
Waffle makers have different opening systems that provide different levels of comfort. There are models with  90 ° opening that allows you to easily reheat already baked waffles and prepare new ones.
Euro Cuisine WM520 Eco Friendly Heart Shaped Waffle Maker
Other models open at 180 degrees providing better visibility and an even distribution of the dough across the plates.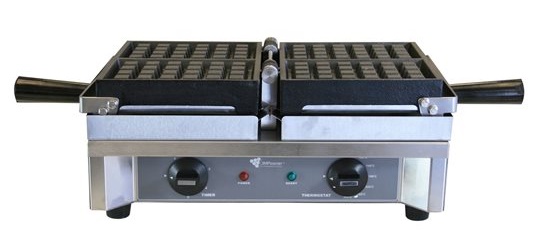 Finally, the reversible, rotating waffle maker, which turns on itself with a handle and it is used by professionals. This model combines user comfort and perfectly balanced waffles. It is ideally suited for intensive use and evenly baked waffles.
Best Rotating Waffle Maker Models
This bestseller, Belgian waffle maker boasts a professional-style, rotating design that provides convenient rotation for even baking and a space-saving, vertical position for storage. Enjoy perfectly baked, 7-inch diameter Belgian waffles, crispy outside and tender inside. The countdown timer with digital display comes in pretty handy while the nonstick, simply wipe clean interior makes the whole process a breeze!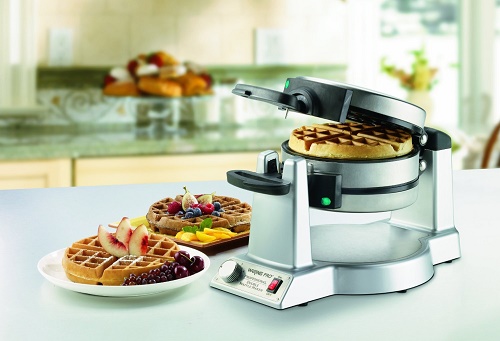 This rotating waffle maker is the ultimate waffle machine: 1400 watts of power, 2 LED ready indicator lights and 3 audio beep tones for when the waffles are perfectly baked makes it a child's play to deliver a delicious breakfast for the entire family. Capable of making 2 waffles at the same time the model comes with browning control knob that makes it easy to personalize the tasty treats to everyone's desire.
Baking thick, delicious, Belgian waffles was never more approachable. This iron heats up in less than 2 minutes- a green light signalizes when the machine is ready to use- you add the barter and the light goes off to come on again when the waffles are ready. Easy to use and clean this 1000 watt power, non stick plates, removable drip tray waffle maker is quite a sturdy appliance.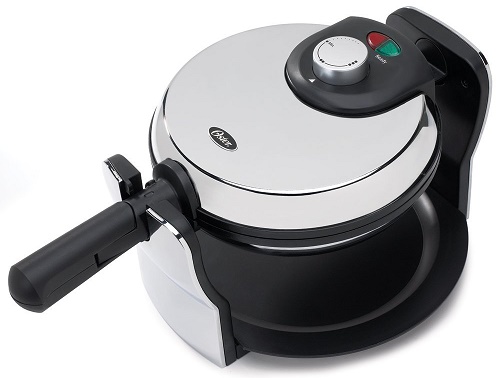 The power
Power gives an indication on the ability of the device to make waffles quickly- the more power you have, the faster you will cook the waffles. Choose a model that provides around 1000 watts of power for a decent experience and we guarantee you will be able to satisfy even the greediest of your family members.
Adjustable Thermostat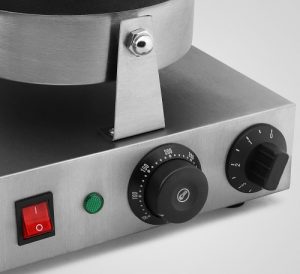 The fun thing about waffles is the ability to customize your experience not only with the toppings but also with the degree of crisp and browning. Therefor, an adjustable thermostat is useful since it helps you get more or less golden waffles, but also more or less crispy ones, according to taste. A timer is also handy since it helps you bake identical batches and avoid burning the waffles. Some models have a warning light for when the appliance reached the ideal cooking temperature or for when the waffle is baked.
Waffle Manufacturing and Plates Material
The waffle maker can be made from materials like plastic or stainless steel. Stainless steel has the advantage of being particularly tough and elegant but the plastic seduces with its lightness. If you want to buy a colorful waffle iron for a more original design go for a plastic model.
Waffle irons these days mostly have plates made of cast Aluminum or ceramic. For optimum comfort when preparing waffles, opt for a model with a nonstick coating. Also removable plates come in handy especially if they are dishwasher safe. It is advisable to clean the appliance after every use since it would prologue its term of use and provide a more satisfying experience.
Security
Security is an important selection criterion when you want to buy a waffle iron. Opt for a model with non-slip feet to enjoy more serenity during use, especially when pouring the batter or turn the unit (for swivel models). An on/off button can also be an additional safety feature to better control the operation of the unit. To avoid burns choose a model with insulating handles. Finally, the presence of a safety clip to keep the unit closed during cooking can be an interesting advantage to limit the risk of burns, especially if you have children in the household.
Storage
Some waffle irons models are more compact than others and this can be an important consideration for those who lack closet space. Good to know: there are waffle irons that can be stored vertically to save space.